Theatre Lights
FX Lights
Concert Lights
Pro Audio
Concert Sound
Theatre Lights
FX Lights
Concert Lights
Pro Audio
Audio Packages
Hiring Agreement
Services
Repairs
Installation
Training
Consultation
Sound Solution is a professional sound and lighting company, specialising in sales, hire and installation. Sound Solution has been providing a professional service to the northern rivers region for over 20 years.
In the early days we dealt mostly with local, touring and international bands and acts. Today we cater to the needs of many sectors of the community, including schools and churches, councils, theatres and the general public. In fact, anyone who needs to be seen or heard or just want to party. Our live gigs include 'carols by candlelight', the 'Blues and Roots Festivals', 'Lismore Folk festivals', 'Byron Bay New Years Eves', 'Operas at the Chanon', 'Winter Whales', 'Australia Day' services. 'Anzac Day' services,'The Cars that Ate Paris' Australian tour, public performances, techno parties, street festivals, concerts and many other events.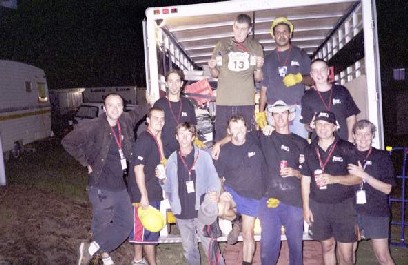 Sound Solution prides itself on offering a professional service and keeping up to date and compliant with all the current laws and regulations including occupational health and safety.
Our friendly experienced staff have more than 50 years of experience in all aspects of live production. We believe in education and training but experience is the best teacher. Tim taught audio at the very first live production course in Australia, 'The Roadies Course'. The course was hosted by Sound Solution for a number of years at our premises in South Lismore. Since then we have done training in pro audio & lighting for schools, churches, the Southern Cross University and other educational facilities.We tailor our courses to suit the individual with an emphasis on manual handling and occupational health and safety.
Sound Solution also does pro audio and lighting equipment sales and installation for schools, churches, pubs, clubs, shops and entertainment venues, etc. We can supply full concert production, background music systems, large theatrical lighting setups, small performance lighting setups and special effects. Because we have been in business for so many years we have built up an excellent relationship with our suppliers and can offer our customers not only personalised service and a wide range of professional products but also reliable backup and servicing.
Check out Sound Solution on this site
---